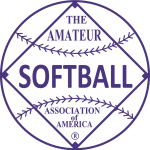 1980 held at Waterville, Maine on August 21-24.
---
Champion – Cadillacs, Atlanta, Georgia (72-15)
Runner Up – Silvestri's, Staten Island, New York
A roaring crowd said to be numbering nearly 7,000 people as the Atlanta Cadillacs won the title game of the National ASA modified pitch softball tournament from Silvestri's of Staten Island, N.Y. on Sunday night by an 11-10 count on a two out, two strike, three run home run by former New York Yankee player Big John Fulton in the last of the seventh inning. It was John's fourth home fun of the four day tournament.
He had 41 during the regular season. One of his tourney shots was a grand slam.
---
MVP – John Fulton, Cadillacs
Batting Champion – Eddie Fernandez, Clinica Associacion Cubana,  – .609
HR Champion – John Fulton, Cadillacs – 4
---
FIRST TEAM ALL AMERICANS
P – Jake Keegan, Town & Country
P – Dan Lopez, Piefer
P – Eddie Gutierrez, Clinica Associacion Cubana
C – Glenn Van Pelt, Silvestri's
C – Spadey Cooke, Cadillacs
1B – Gary Paulosky, Mt Hope
2B – Frank Albizu, Clinica Associacion Cubana
3B – Frank Cicero, Silvestri's
OF – John Fulton, Cadillacs
OF – Luis Camina, Clinica Associacion Cubana
OF – Barry Poffenrouth, L.B. Franco
OF – Dan McDermott, Granite Athletic Club
UTIL – Greg Walling, Broadway National
---
SECOND TEAM ALL AMERICANS
P – Colin Roy, Comm Concrete
P – George McLendon, Silvestris
P – Rocky Parello, C&W
C – Ray Doyle, Granite Athletic Club
C – Jorge Maduro, Clinica Associacion Cubana
1B – Eddie Fernandez, Clinica Associacion Cubana
2B – Mike D'Esposito, Granite Athletic Club
3B – Bill Hamel, D'Anne
SS – John Curato, Silvestris
OF – Dennis Jackson, Silvestris
OF – Frank Montalbano, Silvestris
OF – Bill Russell, Clinica Associacion Cubana
OF – David Harvey, Cadillacs
---
FINAL STANDINGS (Incomplete)
1. Cadillacs, Atlanta, GA
2. Silvestri's, Staten Island, NY
3. Clinica Associacion Cubana, Miami Beach, FL