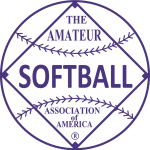 1979 held at Nashville, Tennessee.
---
Champion: Bob Hoffman's Dots, Miami, Florida
Runner Up: Tampa Gremlins, Tampa, Florida
---
The Dots closed out their final campaign with a 12-6 victory over the Tampa Gremlins in the finals. They have been a dominant force in Slow Pitch during the last eleven years in national play. Since 1969, the Dots have finished in the top-5 every single year, They have won 5 National Championships (1969, 1974, 1975, 1978 and this year 1979), twice been Runner-up, twice been third and throw in a fourth and a fifth. They have had an incredible run. After the season, they decided to disband. The Gremlins had to defeat last year's runner-up, Atlanta Getz in the loser's bracket to gain the finals over the powerful Dots.
---
MVP – Rita Lewis, Bob Hoffman's Dots (12-25, .480, 2 HR, 10 RBI, 13 Runs)
Home Run Leader – Sue Bupp, York Barbellettes (10-17, .588, 10 RBI, 6 Runs) – 4
Batting Leader – Pam Nelson, McLaughlin Oil (11-15, 1 HR, 3 RBI, 4 Runs) – .733
---
1979 FIRST TEAM ALL AMERICANS
P – Robin Murray, Dots
C – Glynda Hester, Getz
1B – Linda Tumlin, Getz
2B – Debbie Wohlers, Gremlin
3B – Rita Lewis, Dots
SS – Chris Padgett, Dots
OF – Ernestine Hamel, Dots
OF – Elaine Honig, Gremlins
OF – Cindy Brogdon, Getz
UT – Jennie Garrison, Getz
UT – Marilyn Booher, Sorrento's
UT – Sandra VanLandingham, Gremlins
UT – Marlene Brice, Gremlins
1979 SECOND TEAM ALL AMERICANS
P – Shirley Patterson, Sorrento's
C – Terry Combs, Sorrento's
1B – Laura McEvoy, Hutley's Chasers
2B – Linda Mueller, All Sports
3B – Cheryl Gardley, Port City
SS – Sue Bupp, Barbellettes
OF – Karen Harris, UPI
OF – Lisa Shermeyer, Barbellettes
UT – Charlene Stemm, Ferry Cap
UT – Charlene Koski, Rebels
UT – Jennifer Gorecki, Self-Serve
---
FINAL STANDINGS
1. Bob Hoffman Dots, Miami, FL (7-0)
2. Tampa Gremlins, Tampa, FL (7-2)
3. Atlanta Getz, Atlanta, GA (4-2)
4. Sorrento's Pizza, Cincinnati, OH (5-2)
5t. Self-Serve, Solon, OH (4-2)
5t. Rebels, Jacksonville, FL (3-2)
7t. Hutley's Chasers, Huntington, NY 6-2
7t. Port City Ford, Houston, TX (3-2)
9t. Mclaughlin Oil, Columbus, OH (2-2)
9t. Annie's Guns, Dallas, TX (3-2)
9t. Ferry Cap, Parma, OH (3-2)
9t. Barbellettes, York, PA (3-2)
13t. All Sport Uniform, Roseville, MI (3-2)
13t. Universal Plastics, Cookville, TN (2-2)
13t. Detlefsen Insurance, Burnsville, MN (2-2)
13t. Forrest Datsun, Redwood City, CA (2-2)
17t. Carrao Construction, Las Vegas, NV (2-2)
17t. Getaway Inn, Topeka, KS (2-2)
17t. Spooks, Anoka, MN (1-2)
17t. Nelson Painting, Oklahoma City, OK (1-2)
17t. Hecker's Girls, New Athens, IL (1-2)
17t. Bernard Hall, Fond-Du-Lac, WI (1-2)
17t. Jefferson Royals, Desoto, MO (1-2)
17t. Stompers, Mechanicsville, VA (3-2)
25t. St. Paul Steamers, St. Paul, MN (0-2)
25t. Cunningham-Kelly Fillies, Nashville, TN (2-2)
25t. Quicksilver, Tulsa, OK (0-2)
25t. George Flowers Playmates, Sacramento, CA (0-2)
25t. L&B Oil, Hutchinson, KS (0-2)
25t. Indian Head Pub Mice, Huntington Station, NY (0-2)
25t. Hartford Road Dairy Queen, Manchester, CT (1-2)
25t. Danielson Insurance, Missoula, MT (0-2)
33t. Redwood Saloon, New Bedford, MA (0-2)
33t. The Junction, Greeley, CO (0-2)
33t. E.M.A.C., El Monte, CA (0-2)
33t. Lufkin Curves, Lufkin, TX (0-2)
33t. Sharpe Electric, Chattanooga, TN (0-2)
33t. Great Falls Sponsors, Great Falls, MT (0-2)
33t. Dapco, Dexter, MI (0-2)