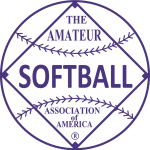 1979 held at Binghamton, New York on August 23-26.
---
Champion – Clinica Association Cubana, Miami Beach, Florida
Runner Up – Granite AC, Staten Island, New York
The rain-plagued Amateur Softball Association National Men's Modified Fast-Pitch tournament should have either a paper champion or a true champion tonight.
A third straight day of rain delays ended at 3:15 o'clock this morning. Eight hours later, an agreement was reached for the two survivors – Clinica Associacion of Miami and unbeaten Granite A.C. of Staten Island– to meet tonight at 8 at First Ward Field, with a helicopter on standby for drying duty if further rain falls. Should the Miamians win, another game must follow to determine the national champion.
Last night's drawn-out proceedings didn't end on the field at First Ward, where in steadily heavier rain the Miamians held off Silvestri's, another Staten Island team, to win the losers' bracket final, 16-13.
That game began at 7 p.m. at MacArthur, but with none out in the top of the first inning and two Clinica runs home, it was held up by rain. Continuing showers forced tourney officials to give up on MacArthur and try to complete the tournament at better-draining First Ward.
When Clinica finished defeating Silvestri's at about 1:30 a.m., it was supposed to immediately play Granite A.C. in the finals. Granite is 6-0 and defeated Clinica 19-13 in yesterday's winners bracket final at MacArthur, Staten Island brothers Vince and Mike D'Esposito each hitting 3-run homers. But with rain pouring down, tournament chairman Carl Gaffney ruled First Ward unplayable.
After more than an hour's debate in the Ramada Inn lobby and two wakeup phone calls to ASA Executive Director Don Porter in Oklahoma City, Gaffney informed Clinica manager-sponsor Ben Leon and Granite A.C. manager Mike Barone to call him today to find out when and where they'd play today.
Barone said all along yesterday that job and other commitments would make it impossible for his team to stay to play today. However Gaffney said this noon the New Yorkers -have told us they'll be there "
Barone, an attorney, cited an ASA rule to back his contention that Granite A.C. is already champion. He said since his team has the best record (6-0) and the tournament could not be completed in the scheduled time, it is the winner.
The rule reads: " . . . tournaments shall be played in accordance with the dates on the bid accepted by the Commissioner's Council." Some ASA nationals have been decided in this fashion.
However, both the 1976 and '77 teenage girls' nationals here were completed a day late because of rain. Gaffney and his committee based their decision to play it out on another ASA rule: "In the event the tournament cannot be completed as scheduled, the tournament committee will ascertain the procedure to determine the final standings."
The committee, which also included ASA officials Fred Schneider of Binghamton and Vince Scamardella of New York City, decided it will determine the standings by playing. If Granite didn't show up. Clinica would regain by forfeit the title it held in 1976-77.
"I don't want to walk away without winning a championship on the field," said Leon, who said he out $25,000 to pay the freight for his team's entourage of 64 (players, coaches, families).
Gaffney offered to help defray Granite A.C. travel expenses if the team wanted to return to New York City and drive back up for a title game tonight. "What would that prove?" asked Barone. "A team that's rested all day going out to play one that's driven to New York City and back and worked Barone's shortstop Ray Rudolph, 74-year-old former Brewers' minor-league infielder, has an unusual reason why he can't stay. Rudolph must fly to Colorado Springs tomorrow morning to rejoin the U.S. team handball squad. He came straight to the softball tournament from Budapest. Hungary, where the U.S. handballers was in a tournament. Team hand-ball is similar to water polo, but played on a court in a Um
Hours earlier than the rain and off-diamond hassling, host team Endicott Trust split two games at First Ward to finish seventh in the 40-team field. ET nipped West Islip, 7-6, but then was a 9-1 victim of a 4-hitter by Silvestri pitcher Ed Pitre. Three double-plays helped ET fend off West Islip.
Jim Bennett, Elk Lake carpenter who played second base for ET, led the team in tournament hitting at .450 (9-for•20). ET's four wins are the most ever for an area team in a modified national.
This year's national also easily broke the Binghamton record for "rocking around the clock. ' Howdy Jones Construction of Little Meadows. which won three games and knocked out defending champ Marianao of Miami Beach Saturday, was eliminated itself at 5:33 a.m. yesterday. Howdy's played the final "Saturday" game, a 12-11 loss to Oil City, Pa., that began 3:50 a.m. yesterday at First Ward.
The old wee-hours record was 3:10. A First Ward game in the '76 Junior girls' tournament ended then. Oil City was back on the First Ward diamond at 9:30 a.m., not surprisingly losing 5-4 to Silvestri's. "When do the umpires ask that you turn the lights off?" was Gaffney's ball-joking query to a bleary-eyed spectator as Oil City and Howdy's took the field.
As is the case this summer in American League baseball, Oriole-organization blood was much for the New Yorkers when the Amateur Softball Association's national men's Modified Fast-Pitch Tournament finally came down to the wire late last night at First Ward Field.
Miami's Asociacion Cabana Clinics, led by slugging tourney MVP Bill Russell— a one-time Baltimore baseball farmhand, pulled the rug from under previously un-beaten Granite Athletic Club of Staten Island, 149 and 104 to win the rain-plagued double-elimination event that began Thurs-day.
The crowd, estimated at 2,500 by local ASA commissioner Carl Gaffney despite seating for only 200, was undoubtedly the largest in First Ward softball history. No tickets were sold, because the field has no crowd control, but many would have rain-checks, anyway, from the MacArthur Field washout of Sunday night.
Granite AC had beaten the Miamians 19- 13 in the winners-bracket final earlier Sunday, and was three outs from victory in last night's winner, on two runs in the top of the seventh, fore an intentional walk to Russell backfired and right fielder Jerome Byrd punched the winning 2-run single to right. Granite AC's lead had been its third, the first a 4.0 top-of-the-first getaway in which towering Miami pitcher Kurtis fell heavily while trying to make a tag play near third base and suffered rib injuries that kept him out thereafter.
Centerfielder Russell's two homers in the nightcap rout, 10-0 at one stage, gave the 31-year-old seven for the tourney, while batting .516.
On the 14-man all-tourney team, Granite AC was awarded five berths to the champions' three, perhaps reflecting Granite manager Mike Barone 's contention the outcome was no true test since he was without three of his players after rain prevented the scheduled Sunday-night conclusion and he felt four others were sub-par after commuting home and back to perform their jobs yesterday. One Granite selection was first-baseman Vin D'Esposito who was 5-for-5 in last night's opener, adding two hits in the Coral-game frustration.
Endicott Trust pitcher Bob Plew was one of the three second team pitching choices. Though modified fast-pitch play has been minimal in this area until this summer, Gaffney feels that spectators were so "taken" with competition that there'll be a lot of recruits moving from slow pitch to modified when be organizes his 1980 leagues.
"I think it'll boom," he said. "It makes so many of the game more important, like ting and stealing." Gaffney said that the tourney marked the first time in the national event's 5-year history that the umpires have been in control as far as illegal pitches— which he's told made a farce out of last year's tourney in Spokane, Wash.
"From the time Ed Crane (Binghamton Central teacher who is ASA's New York State umpire-in-chief) called some illegal pitches against the Long Island team at the very start of the tourney on Thursday, and threw their manager out for objecting, the tournament was made," he said.
Six other Triple Cities umpires officiated last night: Dick James, Dave Van Woert, Kevin McGoff, Wally Mead, Don Soliwoda and Tom Katcher.
The infield had been covered with plastic, a precaution which foiled a mid-afternoon rain.
---
MVP – Bill Russell, Clinica Associacion Cubana
Batting Champion – Bill Russell, Clinica Associacion Cubana – .610
HR Champion – Jim Bennett, Endicott Trust – 7
---
1979 FIRST TEAM ALL AMERICANS
1B – Vin D'Esposito, Granite A.C.
1B – Eddy Fernandez, Clinica Associacion Cubana
SS – Julio Hernandez, Clinica Associacion Cubana
3B – Julio Acosta, Clinica Associacion Cubana
OF – Robert McDaniel, Clinica Associacion Cubana
OF – Bill Russell, Clinica Associacion Cubana
---
1979 SECOND TEAM ALL AMERICANS
P – Bob Plew, Endicott Trust
---
FINAL STANDINGS
1. Clinica Associacion Cubana, Miami Beach, FL (7-1)
2. Granite A.C., Staten Island., NY (N/A)
3. Silvestri's, Staten Island., NY (N/A)
4. Frank's TV, Lowell, MA (N/A)
5t. Long Islanders, Babylon, NY (N/A)
5t. Quachita Sports, West Monroe, LA (N/A)
7t. Endicott Trust, Binghamton, NH (4-2)
7t. Nystrom's, Delano, MN (N/A)
9t. Rana's Restaurant, West Islip, NH (N/A)
9t. Ray L. Wear Manswear, Oil City, PA (N/A)
9t. R.C. Cola Wild Bunch, Claremont, NH (N/A)
9t. North Cumberland Motors, Morristown, TN (N/A)
13t. Howdy Jones Construction, Little Meadows, PA (N/A)
13t. Park Lunch, Newburyport, MA (N/A)
13t. Broadway National Bank, Bayonne, NJ (N/A)
13t. Cadillacs, Atlanta, GA (N/A)
17t. Pomerleau's, Augusta, ME (N/A)
17t. L. B. Franco, Spokane., WA (N/A)
17t. Marianao, Miami Beach, FL (N/A)
17t. Cork "N" Bottle, Sayre., PA (N/A)
17t. King Builders, Little Meadows, PA (N/A)
17t. Platzers, Marysville, MI (N/A)
17t. Town & Country Cleaners, Waterbury, CT (N/A)
17t. Morrell's Builders, Plymouth, MI (N/A)
25t. Roe's Snack Bar, Easton, MD (N/A)
25t. Dubois Tire, Keene, NH (N/A)
25t. Tri-Star, Green Bay., WI (N/A)
25t. SDM Club, East Boston, MA (N/A)
25t. Sherm's Riverside Inn, Watertown, MN (N/A)
25t. Hannons Bar, Scranton., PA (N/A)
25t. Magoo's Tavern, Portland, OR (N/A)
25t. Blazers, King William, VA (N/A)
33t. Service Engineering, San Francisco, CA (N/A)
33t. Harrison Construction, Lubbock, TX (N/A)
33t. Blue Flames, Washington, DC (N/A)
33t. Mt. Hope Inn, Boonton TWP., NJ (N/A)
33t. Water Tank Service, Lufkin, TX (N/A)
33t. Strick's, Spokane, WA (N/A)
33t. Coventry Lodge, Warwick, RI (N/A)
33t. McDowell Towing, Bridgeville., DE (N/A)