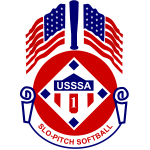 1974 held at Royal Oak, Michigan.
---
Champion – Stan's Auto Sales, New Castle, Pennsylvania (68-13)
Runner Up – Beaumont Hospital, Royal Oak, Michigan
---
Luann Grybowski led Stan's Auto to an undefeated (6-0) run through the Worlds to repeat and win another championship. She pitched a 7-0 shutout over Muxworthy's of Rochester in the winners bracket semi-final. Linda Argal and Rita Belavic each had three hits in the game. Then defeated Beaumont 5-1. Grybowski's bases loaded double in the 7th inning was the icing on the cake. . The last few innings were played in the rain. Stan's sat undefeated, while Sorrento's Pizza was to play the Loungettes of Louisville. That winner to then play Beaumont for the right to play Stan's in the Championship. The rains continued and the tournament was called off. Stan's was awarded the title by being the only unbeaten team, Beaumont was awarded second place because they lost the winner's bracket final. And Sorrento's and Loungettes were tied for third. ,Second Basemen Mary West was named the Tournament MVP. Stan's and Beaumont each placed three ladies on the All-World team.
---
MVP – Mary West, Stan's Auto (11-23, .478)
Batting Leader – N/A
HR Leader – N/A
---
1974 ALL WORLD TEAM
P – Luann Grybowski, Stan's Auto (gave up only 7 runs in 6 games, with a shutout)
2B – Mary West, Stan's Auto (.478)
3B – Linda Argal, Stan's Auto
OF – Jenny Bellavia, Pace
OF – Evelyn Abell, Loungettes (12-25, .480)
No more information provided.
---
OTHERS
Patty Palmer, Red Shield (15-26, .577)
Jamie Wadell, Loungettes (12-22, .545)
Lou Wheeler, Loungettes (11-22, .500)
---
FINAL STANDINGS (Incomplete – 74 total teams)
1. Stans Auto Sales, New Castle, PA (6-0)
2. Beaumont Hospital, Royal Oak, MI
3. Loungettes, Louisville, KY (6-1)
3. Sorrento's Pizza, Cincinnati, OH (5-1)
*The tournament was shortened by rain.