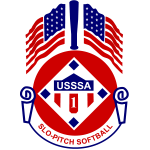 1974 held on August 24-26 at Howarth Park and Burbank Park in Pinole, California.
---
Champion – Dino's Pizza, Detroit, Michigan
Runner Up – Bay Area Merchants (BAM), Richmond, California
---
Pace Electronics started to make a statement on the very first night of the tournament as they upset Defending Champ, Bay Area Merchants from Richmond CA by a 10-8 score. Winning Pitcher Frank Tacone was 4-4 to lead the Pace squad. Glen Eichelberger hit a 3-run homer for Pace. This dropped BAM into the losers bracket. There, they won five straight games by a combined score of 114-48. Included in those wins were victories over Pace 20-13 (Pace finished in 3rd place) and then 15-9 over Dino's Pizza in the first game of the finals. Dino's came back and won the final championship game 10-5 behind the Pitching and Hitting of Joe Patti. Patti went 2-4 in the final game and surrendered only 11 hits to a team that had previously collected 100 hits in it five game winning streak. Tasso Runeliotis had a big 3-run homer to lead Dino's.
1973 East, Central, West World Champs and Runner-ups along with the 1973 World Series Champ played an 8 team double elimination tournament.
The process of determining the World Series participants the prior year has ended. The East, Central an West Worlds will now be held in the same year as the World Series. To catch up for the 1974 Regional World Champs, the 1975 World Series would include the 1974 East, Central and West World Champs along with the 1975 East., Central and West World Champs along with the 1974 Defending Champion and the Host team.
By winning the 1974 World Series, Dino's, who became Uniroyal—-(QUALIFIED for 1975 WORLD SERIES)
---
MVP – Joe Patti, Dino's Pizza (10-16, .625, 1 HR, 2 RBI, 9 Runs)

Home Run Leader – Elby Bushong – (15-29, .529, 17 RBI, 11 Runs)  – 8

Home Run Leader – Tom Sandau, BAM (20-29, .670, 16 RBI, 15 Runs) – 8

Batting Leader – John Morris, BAM- (15-21, 4 HR, 13 RBI, 12 Runs) – .714
---
All-World Team
No All-World Team was selected  – The East and West selected All World Teams in their respective tournaments, the Central did not.
---
1974 World Series Stats (at least 12 ABs)
John Morris, BAM (15-21,. 714, 4 HR, 13 RBI, 12 Runs)
Tom Sandau, BAM (20-29, .690, 8 HR, 16 RBI, 15 Runs)
Bob Woodruff, Capitol (8-12, .667, 1 RBI, 6 Runs)
Joe Patti, Dino's (10-16, .625, 1 HR, 2 RBI, 9 Runs) – Also 4-1 Pitching
Lou Smith, BAM (16-26, .615, 2 HR, 6 RBI, 12 Runs)
Frank Tacone, Pace (9-15, .600, 2 HR, 5 RBI, 6 Runs)
Dan Murphy, Dino's (10-17, .588, 1 HR, 7 RBI, 2 Runs)
Glen Eichelberger, Pace (8-14, .571, 5 HR, 8 RBI, 9 Runs)
Tasso Runeliotis, Dino's (11-20, .550, 3 HR, 7 RBI, 7 Runs)
Charlie Pierce, BAM (17-28, .533, 1 HR, 10 RBI, 15 Runs)
Phil Higgins, Slinger (8-15, .533, 5 HR, 14 RBI, 5 Runs)
Bob Rodwell, Dino's (8-15, .533, 1 HR, 4 RBI, 6 Runs)
Steve Ehlke, Slinger (8-15, .533, 4 RBI, 8 Runs)
Elby Bushong, BAM (15-29, .529, 8 HR, 17 RBI, 11 Runs)
Jerry Gilbreath, BAM (14-27, .519, 4 HR, 18 RBI, 12 Runs) – also 3-0 Pitching
Frank Coppa, BAM (13-27, .481, 2 HR, 3 RBI, 13 Runs)
Marv VanCurran, BAM (13-29, .449, 3 RBI, 9 Runs)
Larry Shephard, BAM (11-30, .366, 1 HR, 8 RBI, 9 Runs)
Cal Carman, Dino's (7-21, .333, 1 HR, 5 RBI, 6 Runs)
OTHERS
Rick Scherr, Slinger (6-9, .667, 4 HR, 6 RBI, 7 Runs)
Bob Mittleberger, Dino's (5-10, .500, 3 HR, 7 RBI, 5 Runs)
Hank Kosmala, Capitol (5-11, .455, 3 RBI, 3 Runs)
Andy Santillo, Pace (5-11, .455, 2 RBI, 2 Runs)
Jerry Johnston, Dino's (6-17, .352, 4 HR, 13 RBI, 6 Runs)
---
FINAL STANDINGS
1. Dino's Pizza, Detroit, MI (4-1)
2. Bay Area Merchants, Richmond, CA (5-2)
3. Pace Electronics, Rochester, NY (2-2)
4. Slinger Foundry, Milwaukee, WI (2-2)
5t. Capitol Insulation, N. Hollywood, CA (1-2)
5t. Chandler Redi-Mix, Phoenix, AZ (1-2)
7t. Croton Dukes, New Castle, PA (0-2)
7t. Thurmer's Bar, St. Louis, MO (0-2)