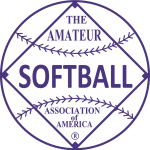 1974 held at C.L. Varner Stadium, in Orlando, Florida on August 22-September 1.
---
Champion – Raybestos Brakettes, Stratford, Connecticut (81-5)
Runner Up – Sun City Saints, Sun City, Arizona (66-12)
---
Down but never out, Raybestos battled back out of the depths of the loser's bracket, Saturday night, culminating the performance with twin, extra inning 1-0 triumphs over Sun City Saints to successfully defend its Women's National Fastpitch championship.
It was an unprecedented fourth straight championship by the Stratford, Conn., gals and their 11th title since 1958.
But their was no precedent for Joan Joyce's incredible 25 inning performance that ran her tournament scoreless string to 60 innings and her strikeout total to 107.
Saturday night, Joyce tamed Sun City Saints on five hits in the in the 5th inning opened and then scattered six in the 10 inning nightcap, striking out 23 and 12 over the course of the evening.
It wasn't until the clock passed midnight that the 3,102 C.L. Varner Stadium fans could go home, the winning run in the championship game being scored by Willie Roze.
A sacrifice fly to shallow right field by Peggy Kellers, the unsung hero who caught Joyce's deliveries throughout the nine day tournament. Roze led off the bottom of the 10th with a single to center and advanced when Sharron Backus was hit by a pitch. Both runners moved up on a Lu Gecewicz dropped a perfect sacrifice bunt.
Victim of the championship uprising was hard-luck Paula Noel who beat these same Brakettes in last year's tourney and as recently as this year's all-star series.
But it was not to be her night.
Plenty of the expected happened in the first game, and even a little of the unexpected.
Noel, who gained a victory over the Brakettes in last year's national tourney and another in this year's all-star series, wiggled off the hook in the 5th, 9th, 11th, 13th, and 14th, before that 15th send her to only her fourth loss against 38 wins.
Almost everyone among the 3,000 plus through thought the Brakettes would score in the 10th. But bunting Joan Moser apparently forgetting there was only one out failed to run to first for an easy inning ending double play.
Elliott tripled leading off the 11th for one of her four hits, but was left stranded when Noel mowed through Joyce Compton, Joyce, and Willie Roze on routine infield outs.
"What we need now is three days of rain," Stratford Coach John Stratton offered, referring to a much needed rest by Joyce.
It was Joyce's third consecutive extra inning win through the losers' bracket and her sixth against a single loss in the tournament.
The all important run was also eye-athing in the fact it was the first inning run allowed by Noel in 57 innings. The strong Arizona schoolteacher, although not a strikeout artist, had been stingy with the hits. She allowed only seven in the tournament before meeting the Brakettes.
Becky Rice of Sun City Saints went 2-23,. 087, 1 HR, 1 RBI, 1 Run. The one home run she hit earned her the HR Leader status.
---
MVP – Joan Joyce, Raybestos Brakettes
HR Leader – Becky Rice, Sun City Saints – 1
Batting Leader – Diane Kalliam, Santa Clara Laurels – .444
Bertha Tickey Pitching Award – Joan Joyce, Raybestos Brakettes
Erv Lind Defensive Award – Jamie Smith, Lansing Laurels
---
FIRST TEAM ALL-AMERICANS
P – Joan Joyce, Raybestos Brakettes (7-1, 107 K, 70 IP, 0 ER, 1 Run, 7 Shutouts, won final 2 games both 1-0, 9 innings and 15 innings, 6o consecutive scoreless innings pitched)
P – Paula Noel, Sun City Saints (4-2, 66 IP, lost both final games 1-0, 15 innings and 10 innings, pitched every inning for the Saints)
P – Lisa Schwenk, M.K. Peppers
C – Linda Spradley, Sun City Saints
C – Peggy Kellers, Raybestos Brakettes
1B – Carol Salsbury, Santa Clara Laurels
2B – Willie Roze, Raybestos Brakettes
3B – Irene Shea, Raybestos Brakettes (had 13 hits, tied record set by Mickey Stratton in 1961) – she was 13-40, .325, 6 Runs, 5 RBI
SS – Sharron Backus, Raybestos Brakettes
OF – Diane Kalliam, Santa Clara Laurels (8-18, .444, 3 Runs, 3 RBI)
OF – Denny Buchanan, Sun City Saints
OF – Marlene Piper, Dave Lee Sports
OF – Mary Nutter, Lansing Laurels
UTIL – Mary Ann Kluge, Tonawanda Shamrocks
SECOND TEAM ALL-AMERICANS
P – Cathy Benedetto, Dave Lee Sports (3-2)
P – Debra Kent, Lansing Laurels
P – Kathie Trendall, Kutis Funeral Home
C – Janice Aubechon, Kutis Funeral Home
C – Kay Purves, Lansing Laurels
1B – Marilyn Rau, Sun City Saints
2B – Lee Ann Easley, Sun City Saints
3B – Billie Moore, Sun City Saints
SS – Jamie Smith, Lansing Laurels
OF – Tina Harris, M.K. Peppers
OF – Pat Guenzler, Kutis Funeral Home
OF – Judy Schneider, M.K. Peppers
OF – Kathy Elliott, Raybestos Brakettes
---
FINAL STANDINGS
1. Raybestos Brakettes, Stratford, CT (9-1) (Defending Champ)
2. Sun City Saints, Sun City, AZ (4-2) (Cactus)
3. M.K. Peppers, Indianapolis, IN (3-2) (West Central)
4. Santa Clara Laurels, Santa Clara, CA (3-2) (North Pacific Coast)
5t. Kutis Funeral Home, St. Louis, MO (3-2) (Western)
5t. Shamrocks, North Tonawanda, NY (2-2) (Mid-Atlantic)
7t. Dave Lee Sports, Portland, OR (3-2) (Northwestern)
7t. East Lansing Laurels, Lansing, MI (2-2) (East Central)
9t. Johnson's Heating, Greeley, CO (1-2) (Rocky Mountain)
9t. Orlando Rebels, Orlando, FL (2-2) (Host)
9t. Lorelei Ladies, Atlanta, GA (1-2) (South Atlantic)
9t. Bally Cardinellas, Pottstown, PA (1-2) (Central Atlantic)
13t. Fullerton Royals, Yorba-Linda, CA (0-2) (South Pacific Coast)
13t. Waltham Drifters, Waltham, MA (1-2) (New England)
13t. Rimnac-Hanson Benjos, Bloomington, MN (0-2) (Northern)
13t. Ed Meir Ford, Memphis, TN (0-2) (Southwestern)
17t. Southerners, Birmingham, AL (0-2) (Southern)
17t. Houston Comets, Houston, TX (0-2) (Texas)
---
NOTES
Canada Champ – Vancouver Green & Louie, Vancouver, BC did not attend.