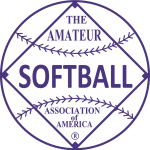 1972 held at Providence, Rhode Island on August 1-9.
---
Champion – Pharr Yarn, McAdenville, North Carolina
Runner Up – Pabst International, Springfield, Ohio
---
Pharr Yarn came back and beat Pabst International Harvester twice, 8-4 and 11-9. Pharr Yarn's Ken Mitchem won the MVP award as his clutch home runs  gave Pharr Yarn the lead in each championship game. Pharr Yarn's 8-4 victory was decided in the 8th inning by Ken Mitchem's Grand Slam homer.  Then in the Final game, Mitchem hit a 2-run homer to provide Pharr Yarn the margin of victory in the 11-9 game. Mitchem was 4 for 4 in that game.  In the 19 or so Nationals that Pharr Yarn has been in, counting their "brother team", the McAdenville Reds Open team in the early days before the Industrial division was started, The Pharr Yarn team has been 85-28 in National Competition.  Included are 6 Industrial Championships and 2 runner-ups.
---
MVP – Ken Mitchem, Pharr Yarn (18-34, .529, 5 HR, 16 RBI, 13 Runs)
HR Leaders – Ken Mitchem, Pharr Yarn – 5
HR Leaders – Smiley Tribble, Pharr Yarn (13-31, .419, 14 RBI) – 5
Batting Leader – John Dowling, EL Wiegand (17-24, 3 RBI, 6 Runs) – .708
---
ASA INDUSTRIAL MAJOR ALL AMERICANS FIRST TEAM
P – Bob McMahon, Pharr Yarn
P – Alex Creek, Aetna Insurance
C – Dave Evilsizer, Pabst International
C – Don Hylton, General Electric (Waco)
1B – Ron Boling, Pabst International
2B – John King, Pharr Yarn
3B – J.D. McDonald, Pharr Yarn
SS – Larry Garrard, Pabst International
OF – Emory McCory, Norfolk, VA
OF – William McCarthy, Providence City Workers
OF – Pete Schaaf, Nassau County Police
OF – Ken Mitchem, Pharr Yarn
Util – John Downing, Pittsburgh
Util – Larry Spahr, Pabst International
ASA INDUSTRIAL MAJOR ALL AMERICANS SECOND TEAM
P – Duke Martin, Pittsburgh
P – Wayne Crew, Pabst International
C – Terry Manthey, Anoka-Hennepin School District
C – Tom Vandenbush, J. C. Penney
1B – Danny Craver, Aetna Insurance
2B – Larry Yoakum, Springfield
3B – Ron Barber, General Electric (Waco)
SS – Chris Cammack, Aetna Insurance
OF – Jim Dwiggins, Pharr Yarn
OF – Cookie Stewart, Pharr Yarn
OF – Skip Mogray, Xerox Corporation
OF – Smiley Tribble, Pharr Yarn
Util – Tony Muratore, Providence City Workers
Util – Rick Goddard, Pabst International
---
FINAL STANDINGS
1. Pharr Yarn, McAdenville, NC (8-1)
2. Pabst International, Springfield, OH (5-2)
3. Aetna Insurance, Charlotte, NC (5-2)
4. Nassau County Police, Mineola, NY (5-2)
5t. Providence City Workers, Providence, RI (4-2)
5t. General Electric (Waco), Louisville, KY (5-2)
7t. Norfolk Fire Dept., Norfolk, VA (4-2)
7t. J. C. Penney, Milwaukee, WI (4-2)
9t. E.L. Weigand, Pittsburgh, PA (4-2)
9t. Sikorsky Aircraft, Stratford, CT (3-2)
9t. Cincinnati Fire Dept., Cincinnati, OH (2-2)
9t. Xerox Corporation, Rochester, NY (2-2)
13t. NEWCO, Millbury, MA (4-2)
13t. R.T.E. Co., Waukesha, WI (2-2)
13t. Bruce Johnson, Anoka, MN (2-2)
13t. Detroit Police Dept., Detroit, MI (3-2)
17t. Westinghouse Corporation, Pensacola, FL (2-2)
17t. Phillip Morris, Richmond, VA (1-2)
17t. Eaton Corporation, Battle Creek, MI (1-2)
17t. Kenney Mfg. Co., Warwick, RI (1-2)
17t. Western Electric, Omaha, NE (1-2)
17t. AMF, York, PA (2-2)
17t. Libby Owens Ford Glass, Toledo, OH (2-2)
17t. Local 662, Anderson, IN (2-2)
25t. Combustion Engineers, Chattanooga, TN (1-2)
25t. John Morrell, St. Paul, MN (1-2)
25t. Delaware Police Association, Wilmington, DE (1-2)
25t. Dupont Corporation, Parkersburg, WV (1-2)
25t. La France Industries, LaFrance, SC (1-2)
25t. Delaware Trust, Wilmington, DE (0-2)
25t. Wilson Company, Oklahoma City, OK (0-2)
25t. Hampshire Chemicals, Nashua, NH (0-2)
33t. IBM, Endicott, NY (0-2)
33t. Reigel Rifles, Trion, GA (0-2)
33t. Dupont Independents, Waynesboro, VA (0-2)
33t. Jones & McKnight, Kankanee, IL (0-2)
33t. Local 473, Cleveland, OH (0-2)
33t. Clay Adams Co., Parsippany, NY (0-2)
33t. Portland Fire Department, Portland, ME (0-2)
33t. Pan American Airlines, New York City, NY (0-2)
33t. Delta Airlines, Atlanta, GA (0-2)
33t. Sears Company, Minneapolis, MN (0-2)