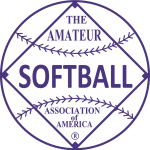 1972 held at Cincinnati, Ohio.
---
Champion – Vernhardt's Inn, Levittown, New York
Runner Up – Jolly Bar, Detroit, Michigan
---
Jolly Bar won their first couple games then lost their first game on Monday and had to deal with the rain delay schedule. Vernhardt's Won their first three games and then the rain delays started and they won all three on the last day to win the championship. Tom Back was said to have won 4 of the 6 games Jolly Bar played with either a game winning hit or game saving catch to earn MVP honors.
---
MVP – Tom Back, Jolly Bar
---
1972 ALL AMERICANS FIRST TEAM
P – Rick Leek, Vernhardt's Inn
C – Ron Fitanor, Travelers
1B – Joe Gagliardi, Pepsico
2B – Larry Johinovotch, Jolly Bar
3B – Junior Riggs, Travelers
SS – Bob Hummer, Jolly Bar
OF – Bobby Mercer, Jolly Bar
OF – Ray Klett, Vernhardt's Inn
OF – Guidici, Henco Builders
OF – Tom Back, Jolly Bar
---
FINAL STANDINGS
1. Vernhardt's Inn, Levittown, NY (6-0)
2. Jolly Bar, Detroit, MI (6-2)
3. Pepsico, Valhalla, NY (4-2)
4. Rantoul, Illinois (4-2)
5t. Steinhafel, Wisconsin (5-2)
5t. Tino's, Chicago, IL (4-2)
7t. Travelers, Louisville, KY (4-2)
7t. Henco Builders, Rochester, NY (4-2)
9t. Jay's AC, Cincinnati, OH (2-2)
9t. Johnny Mac, St. Louis, MO (2-2)
9t. Colonel's Retreat, Thibodaux, LA (2-2)
9t. Minnehaha Bowl, St. Paul, MN (2-2)
13t. Troy Redmen/Holy Name, Troy, MI (2-2)
13t. Conti Brothers, Providence, RI (2-2)
13t. Bridgeport Men, Bridgeport, NE (2-2)
13t. Solway Hardware, Oak Ridge, TN (2-2)
17t. Corner Distributors, Bronx, NY (1-2)
17t. Hunts Tavern, Pittsburgh, PA (1-2)
17t. Dubois Chemical, Cincinnati, OH (1-2)
17t. Mack Truck, Cincinnati, OH (1-2)
17t. Eagles, Minnesota (1-2)
17t. Maria's Pizza, Grand Rapids, MI (1-2)
17t. Dino's, Milwaukee, WI (1-2)
25t. Prudential, Minneapolis, MN (0-2)
25t. Strosh's Place, Kansas City, MO (0-2)
25t. Sports Bar, Fargo, ND (0-2)
25t. Phi Lamda Chi, Fayetteville, AR (0-2)
25t. Jumbo's, Hepzibah, WV (0-2)
25t. Samuel's Grocery, Richmond, VA (0-2)
25t. Gerres Construction, Elkton, DE (0-2)