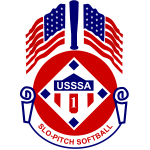 1971 held at Pittsburgh, Pennsylvania.
---
Champion – East End Debs, Pittsburgh, Pennsylvania (52-6)
Runner Up – Pittsburgh Orioles, Pittsburgh, Pennsylvania
---
Jeri Reidel of the Debs hurled a 9-0 shutout over the Pittsburgh Orioles to win the Championship. The Orioles managed just six hits off Reidel. She helped her own cause by going 3-4 and scoring 2 runs herself. Reidel pitched all the games for the Debs and went 5-0, allowing just 6 runs in those 5 games. It was a Pittsburgh affair as the Orioles had to beat Pittsburgh Baierl Chevrolet in the losers bracket final to reach the Debs. Pittsburgh teams finished 1, 2, 3 and 5. Georgetown Village of Ohio was 4th and Penn Hills of Pittsburgh was 5th. 22 teams entered this event, making it the largest Women's World Championship to date. 5 of the teams were from PA. 4 were from KY, NY and VA. 2 from Maryland, while 1 each from OH, IN and NC.
---
MVP – Jeri Riedel, East End Debs (allowed 6 runs in 5 games)
Batting Leader – Jeri Riedel, East End Debs
Batting Leader – Janet Schmidt, East End Debs
HR Leader – Dottie Galligan, Indiana Majorettes – 3
---
1971 ALL WORLD TEAM
P – Jeri Reidel, Debs (3-4 in final)
P – Olivia Jones, Orioles (0-3 in final)
C – Sue Anderson, Debs (2-4 in final)
C – Pat Miller, Baierl Chevrolet
1B – Sue Dixon, Orioles (1-3 in final)
2B – Jan Kasnevica, Baierl Chevrolet
3B – Bonnie Perella, Debs (2-4 in final)
SS – Debbie Cecerie, Orioles (1-2 in final)
SS – Dottie Galligan, Indiana Majorettes
SF – Debbie Lesesne, Orioles (0-3 in final)
OF – Janet Schmitt, Debs (3-4 in final)
OF – Jody Manore, Georgetown
OF – Jean Deliman, Baierl Chevrolet
Manager – James Reidel, Debs
---
FINAL STANDINGS (Incomplete – 22 total teams)
1. East End Debs, Pittsburgh, PA (5-0)
2. Pittsburgh Orioles, Pittsburgh, PA (4-2)
3. Baierl Chevrolet, Pittsburgh, PA (4-2)
4. Georgetown Village, Toledo, OH (4-2)
5. Penn Hill, Pittsburgh, PA (3-2)