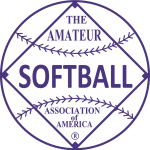 1971 held at York, Pennsylvania on August 1-9.
---
Champion – Pharr Yarn Red, McAdenville, North Carolina
Runner Up – AMF, Incorporated, York, Pennsylvania
---
Mac Richardson (15-24, .625, HR, 9 RBI) and Bob McMahan (14-24, .583, 9 RBI, 7-0 pitching) led Pharr Yarn another Industrial National Championship. Pharr Yarn won the final 11-2, behind McMahan's pitching and Ken Mitchem's 3-run Home run. Ed Reider was the high man for AMF in the tournament (13-28, .481), along with John King (11-25, .440) and Carl Stambaugh (9-21, .429). Ed Finnegan of Avco-Lycoming has such a fantastic tournament for his team, even though they finished 4th, he was named the Tournament MVP.
---
MVP – Ed Finnegan, Avco-Lycoming (25-36, .694, 13 RBI, 17 Runs) – won award, even though his team finished 4th
HR Leader – Dave Evilsizer, Pabst International (11-29, .379, 12 RBI) – 4
Batting Leader – Ed Finnegan, Avco – .694
---
ASA INDUSTRIAL MAJOR ALL AMERICANS FIRST TEAM
P – Bob McMahan, Pharr Yarn (.583)
P – Bill Bansak, Avco-Lycoming (.581, 14 RBI)
C – Tom Hall, Riegel Rifles
1B – Mac Richardson, Pharr Yarn (.625)
2B – Terry Togio, Avco-Lycoming (.606)
3B – Nick Mescher, Pabst International (.519, 2 HR)
SS – Ed Finnegan, Avco-Lycoming
OF – Emery Klemstine, Norfolk Fire Department (.636)
OF – Larry Holbrooks, Riegel Rifles
OF – Jim Dobbs, Avco-Lycoming (2 HR, 18 RBI)
OF – Eugene West, Pharr Yarn
UTIL – Whitey Tucker, Riegel Rifles
ASA INDUSTRIAL MAJOR ALL AMERICANS FIRST TEAM
P – Carl Stambaugh, AMF
C – Raymond Barron, Local #14
1B – Jim Vessels, Bennett Motors
2B – Dick Wade, Pabst International
3B – Joe Brown, Pabst International
SS – John King, AMF
OF – Rich Dobbs, Avco-Lycoming
OF – Bob Weller, Norfolk Fire Department
OF – Ken Mitchem, Pharr Yarn
UT – Ed Reider, AMF
---
FINAL STANDINGS
1. Pharr Yarn Reds, McAdenville, NC (7-0)
2. AMF, lnc. York, PA (7-2)
3. Riegel Rifles, Trion, GA (4-2)
4. AVCO/Lycoming, Stratford, CT (7-2)
5t. Pabst, Springfield, OH (6-2)
5t. Pharr Yarn Greens, McAdenville, NC (3-2)
7t. Norfolk Fire Department, Norfolk, VA (5-2)
7t. Bruce-Johnson, Minneapolis, MN (2-2)
9t. Bennett Motors, Evansville, IN (3-2)
9t. Proctor & Gamble, Cincinnati, OH (2-2)
9t. Burlington-Northern, St. Paul, MN (2-2)
9t. Dupont Fibers, Waynesboro, VA (2-2)
13t. Delta Airlines, Atlanta, GA (2-2)
13t. Local #14, Cleveland, OH (3-2)
13t. Waco's, Louisville, KY (2-2)
13t. Link A. C., Binghamton, NY (3-2)
17t. Lawrence Township Fire Department, Lawrence Township, NJ (2-2)
17t. A. H. Robins, Richmond, VA (1-2)
17t. Walker's, WV (1-2)
17t. Bausch & Lomb, Rochester, NY (1-2)
17t. RTE Corp., Waukesha, WI (1-2)
17t. Westinghouse, Pensacola, FL (1-2)
17t. Pittsburgh Post Office, Pittsburgh, PA (1-2)
17t. Delaware Association of Police, Wilmington, DE (1-2)
25t. Wilson & Co., Oklahoma City, OK (1-2)
25t. Great Lakes Steel, Detroit, MI (1-2)
25t. Pepsico, New York, NY (1-2)
25t. Local #1098, Cleveland, OH (1-2)
25t. Kenney Manufacturing, Warwick , RI (0-2)
25t. Raytheon, Worcester, MA (0-2)
25t. Local #149, Minneapolis, MN (0-2)
25t. ACCO, York, PA (0-2)
33t. Rohm & Haas, Knoxville, TN (0-2)
33t. Eaton Manufacturing., Bottle Creek, MI (0-2)
33t. Afees, Kansas City, KS (0-2)
33t. Nassau County Police Department, Mineola, NY (0-2)
33t. Arodmoc, Corpus Christi, TX (0-2)
33t. ACIC Rebels, St Louis, MO (0-2)
33t. Clinton Manufacturing, Clinton, SC (0-2)