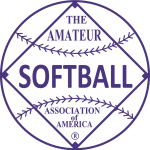 1959 held at Richmond, Virginia.
---
Champion: Pearl Laundry Pollyannas, Richmond, Virginia
Runner Up: Carolina Glass Rockets, High Point, North Carolina
---
Pitcher Polly Russell of Pearl Laundry had plenty of offensive support as her teammates provided her with 69 runs scored in the 3 games they played and Russell did her part twirling 2 shutouts along with the 10-4 Championship game win. Richmond got 4 runs in the first inning, then Player-Manager Pete Brown hit a HR in the sixth inning to pull the Glass Rockets to within 6-4, but Pearl Laundry scored 4 more runs on 4 hits to make it 10-4  in the seventh.  Louise 'Pete' Brown was 8-12 in the tournament (.667). A performance of note was the pitching of the Carolina Glass Rockets Maxine Palmer, who threw a 1-hit shutout in eliminating Garvin's Grill 1-0. Garvin's had been the National Runner-up the previous two years. Also noted was Pearl Laundry's incredible display of offense in its 49-0 victory over Radford Weaving. Margaret Dooley had several hits in this contest which contributed to her Outstanding Hitter Award.
---
ALL TOURNAMENT AWARDS
N.F. Jacobs and Son MVP Award– Phyllis Wright, Carolina Glass Rockets (SF)
Hillerich & Bradsby Outstanding Hitter Award  -Margaret Tunie Dooley, Pearl Laundry (1B)
Outstanding Pitcher Award – Polly Russell, Pearl Laundry (3-0, 2 shutouts)
Rockingham Manager Award – Earl Scobie Gathright, Pearl Laundry
Batting Leader – Louise Pete Brown, Rockets (8-12, .667, 1 HR) – .667
---
FINAL STANDINGS (Single Elimination)
1. Pearl Laundry Pollyannas, Richmond, VA (3-0)
2. Carolina Glass Rockets, High Point, NC (3-1)
3t. Petersburg-Hopewell, VA (2-1)
3t. Blue Jays, Richmond, VA (2-1)
5t. Baltimore Jets, Baltimore, MD (1-1)
5t. Radford Weaving, Radford, NC (1-1)
5t. Garvin's Grill, Washington, DC (0-1)
5t. Rangerettes, Elizabeth, PA (0-1)
9t. Virginia Metal Products, Orange, VA (0-1)
9t. Creeds, Virginia Beach, VA (0-1)
9t. Natick Debs, Natick, MA (0-1)
9t. Payne Oil, Burlington, NC (0-1)
9t. Knotts Island Girls, Knotts Island, NC (0-1)
---
SCORES
Single Elimination
First Round
Petersburg-Hopewell, VA 13 Natick Debs, Natick, MA 4
Baltimore Jets, Baltimore, MD 5 Creeds, Virginia Beach, VA 1
Carolina Glass Rockets, High Point, NC 7 Virginia Metal Products, Orange, VA 6
BYE- Garvin's Grill, Washington, DC
BYE- Pearl Laundry Pollyannas, Richmond, VA
Radford Weaving, Radford, NC 13 Knotts Island Girls, Knotts Island, NC 8
BYE- Rangerettes, Elizabeth, PA
Blue Jays, Richmond, VA 5 Payne Oil, Burlington, NC 0
Quarterfinals
Petersburg-Hopewell, VA 2 Baltimore Jets, Baltimore, MD 0
Carolina Glass Rockets, High Point, NC 1 Garvin's Grill, Washington, DC 0
Pearl Laundry Pollyannas, Richmond, VA 49 Radford Weaving, Radford, NC 0
Blue Jays, Richmond, VA 8 Rangerettes, Elizabeth, PA 6
Semifinals
Carolina Glass Rockets, High Point, NC 14 Petersburg-Hopewell, VA 2
Pearl Laundry Pollyannas, Richmond, VA 10 Blue Jays, Richmond, VA 0
Championship
Pearl Laundry Pollyannas, Richmond, VA 10 Carolina Glass Rockets, High Point, NC 4