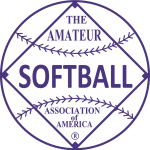 1959 held at Cleveland, Ohio.
---
Champion – Yorkshire, Restaurant, Newport, Kentucky
Runner Up – Duffy's Tavern, Louisville, Kentucky
---
Yorkshire won their first two games, then lost to Grande-Caruso of PA 11-2. They then won the next seven straight games behind the pitching of Walt Wherry, who only surrendered 27 runs in the final 7 games of the tournament.
In the losers bracket semi final, Yorkshire came back to win in dramatic fashion as Don Rardin's 3 run homer late in the game, beat Sheffield Bronze 3-2. They then got their revenge on the Grande-Caruso squad with a 6-4 win in the losers bracket final then had to defeat undefeated Duffy's twice. Duffy's had beaten New Kensington's Grande-Caruso 8-6 as Ish Cornett's home run with brother Al Cornett aboard iced the game in the last inning.
Yorkshire Restaurant became the first team in the history of the Slow Pitch Nationals to come through the losers bracket and win the title. The first final was over quick as Yorkshire won 11-1.
In the 10-6 final, Yorkshire jumped out to a 5-0 lead and never looked back as Myron Reinhardt delivered a 2-run homer with Rardin aboard. This was followed by consecutive doubles by Walt Wherry and Bill Beiger, along with singles from Coleman Arthur, Tom Kuhlman and Ralph Champman for 3 more runs. Wherry had a single, double and a triple in the game, while Reinhardt had a Homer and 2 singles. Yorkshire picked up Myron Reninardt and Walt Wherry from Gatliff for the Nationals.
---
MVP – Walt Wherry, Yorkshire Restaurant (pitched for Yorkshire, went 7-0, won the last four games in a row on the last day)
HR Leader – George Rosewicz, Grande Caruso (9-22, .409, 8 RBI, 7 Runs) – 4
Batting Leader – Richard Rader, Sunbeam Sandwich (15-18, 3 HR, 7 RBI, 10 Runs) – .833 – Set National Tournament Batting record
---
1959 ASA MEN'S OPEN SLOW PITCH ALL-AMERICAN FIRST TEAM
P – Walt Wherry, Yorkshire (7-0 Pitching and 12-27, .444, HR, 8 RBI, 5 Runs)
P – Chuck Jacobs, Sheffield Bronze (Pitched 2 shutouts, 3-14, .214, )
C – Jack Bickerstaff, McAdenville Reds (11-25, .440, HR, 4 RBI, 4 Runs)
1B – Robert Kranscik, Grande-Caruso (11-26, .423, HR, 8 RBI, 6 Runs)
2B – Don Rardin, Yorkshire  (20-34, .588, 2 HR, 18 RBI, 12 Runs)
3B – Ray "Whitey" Brown, Yorkshire (11-31, .355, HR, 6 RBI, 7 Runs)
SS – Michael "Dick" Batten, Grande-Caruso (4-16, .250, 1 Run)
SF – Andy "YaYa" Massetta, Sheffield (8-18, .444, HR, 3 RBI, 5 Runs)
LF – Ishmeal Cornett, Duffy's (11-26, .423, 4 2B, 2 HR, 9 RBI, 8 Runs)
CF – Myron Reinhardt, Yorkshire (7-21, .333, 2 HR, 7 RBI, 7 Runs – played with injury and had to sit out some games)
RF – Austin "Al" Cornett, Duffy's (10-27, .370, 4 RBI, 7 Runs)
---
BATTING LEADERS (15 at bat minimum)
Richard Rader, Sunbeam Sandwich (15-18, 3 HR, 7 RBI, 10 Runs) – .833
Irv Adams, East Side Sports (13-18, 1 HR, 3 RBI, 5 Runs) – .733
Nolan Shepard, Bob Reese Ford (12-18, 1 HR, 6 RBI, 6 Runs) – .667
Don Rardin, Yorkshire (20-34, 2 HR, 18 RBI, 12 Runs) – .588
Art Falsetti, Grande Caruso (10-17, 2 RBI, 5 Runs) – .588
Carroll Beale, McAdenville (13-23, 1 HR, 8 RBI, 5 Runs) – .565
Ted Burliend, Waljo Builders (10-18, 1 RBI, 6 Runs) – .556
Clint Boisel, Sunbeam (11-20, 1 HR, 6 RBI) – .550
Jim Passabet, Waljo (8-15, 3 RBI, 5 Runs) – .533
Ron Elkind, Ghize (10-19, 1 HR, 6 RBI) – .526
Mason Leeper, McAdenville (15-29, 7 RBI, 5 Runs) – .517
Dave Stucky, Sunbeam (10-20, 3 HR, 4 RBI, 8 Runs) – .500
Cotton Perrin, Electric Motor Service (9-18, 1 HR, 4 RBI, 3 Runs) – .500
John Stariha, Krivan (8-16, 2 HR, 6 RBI, 5 Runs) – .500
---
OTHERS
James Vieburg, Westrums (10-14, .714, 3 RBI, 5 Runs)
Joe Goodwin, Waljo Builders (9-14, .643, 1 HR, 5 RBI, 1 Run)
Steve Massong, Hamilton Tailors (5-8, .625, 1 HR, 4 RBI, 4 Runs)
Dave Burke, Duffy's (8-14, .571, 2 RBI, 4 Runs)
Bernie Roeckers, Hamilton Tailors (4-8, .500, 4 Runs)
Sam Minnitti, Hamilton Tailors (4-8, .500, 2 Runs)
Ron Engler, Krivan Club (7-15, .467, 4 RBI, 4 Runs)
Dave Demko, Sheffield (9-20, .450, 2 HR, 7 RBI, 7 Runs)
Bill Campo, McAdenville (11-25, .440, 1 HR, 7 RBI, 7 Runs)
Joe Gauci, East Side Sports (7-16, .438, 3 RBI, 3 Runs)
Roy Lombardo, East Side Sports (8-19, .421, 5 RBI, 2 Runs)
Will Sasseville, Ghize Chevrolet (9-23, .391, 3 HR, 8 RBI, 7 Runs)
JD McDonald, McAdenville (12-31, .387, 5 RBI, 7 Runs)
Charles Conley, Yorkshire (13-34, .382, 1 HR, 3 RBI)
Patsy Mastrocinque, Grande Caruso (8-21, .381, 2 HR, 6 RBI, 8 Runs)
George Coloia, East Side Sports (5-14, .357, 3 Runs)
Ron Annotico, Sheffield (6-17, .353, 2 HR, 6 RBI, 5 Runs)
Bill Braden, Duffy's (9-28, .321, 1 HR, 7 RBI, 3 Runs)
Tom Kuhlman, Yorkshire (7-26, .269, 2 RBI, 5 Runs)
Frank Matoh, Sheffield (5-20, .250, 1 RBI, 4 Runs)
Walt Roeckers, Hamilton Tailors (2-8, .250, 3 RBI, 1 Run)
George Corona, East Side Sports (4-17, .235, 1 HR, 5 RBI, 3 Runs)
---
FINAL STANDINGS
1. Yorkshire Restaurant, Newport, KY (9-1)
2. Duffy's Tavern, Louisville, KY (6-2)
3. Grande Caruso, New Kensington, PA (5-2)
4. Sheffield Bronze, Cleveland, OH (4-2)
5t. McAdenville Reds, McAdenville, NC (6-2)
5t. Waljo Builders, Armonk, NY (4-2)
7t. Carney Auditors Bird Nest, Cleveland, OH (3-2)
7t. Westrum's, Minneapolis, MN (3-2)
9t. Ghize Chevrolet, Spencer, MA (4-2)
9t. East Side Sporting Goods, Detroit, MI (3-2)
9t. Sox's Inn, Detroit, MI (3-2)
9t. 5&10 Tap, Milwaukee, WI (3-2)
13t. Krivian Club, Springdale, PA (3-2)
13t. Electric Motor Service, Knoxville, TN (3-2)
13t. Bob Reese Motors, Toledo-Lucas County, MI (3-2)
13t. Sunbeam Sandwich Shop, Springfield, OH (3-2)
17t. Ed Tate Sporting Goods, Dayton, OH (1-2)
17t. Wayne Lee's Restaurant, Pascagoula, MS (1-2)
17t. Meneitos, Havana, Cuba (1-2)
17t. Viking A.C., Wantagh, NY (1-2)
17t. Fourth Avenue Office Sales, Fargo, ND (1-2)
17t. Colucci Tile, Pittsburgh, PA (1-2)
17t. Hamilton Tailoring, Cincinnati, OH (1-2)
17t. Willie's Tavern, Mobile, AL (1-2)
25t. Bernsen Silk Mills, Buena Vista, VA (1-2)
25t. Shaw Lounge, St. Louis, MO (1-2)
25t. Club 185, Columbus, OH (1-2)
25t. Stewart Truckers, Toledo, OH (1-2)
25t. Venus Beverage, Biloxi, MS (1-2)
25t. Kennedy Drugs, Savannah, GA (1-2)
25t. Cincy Mat Stoppers, Staten Island, NY (0-2)
25t. PNA #83, South Bend, IN (0-2)
33t. Contract Plating, Stratford, CT (0-2)
33t. Ted's Portway, Richfield, MN (0-2)
33t. Emmanuel Restaurant, Rochester, NY (0-2)
33t. Douglas Tire Company, Providence, RI (0-2)
33t. Jednote #831, Tarentum, PA (0-2)
33t. Club Snafu, Sheboygan, WI (0-2)
33t. VFW Post #8006, Florence, MA (0-2)
33t. Capri Lounge, Trenton, NJ (0-2)