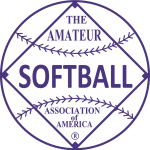 1957 held at McCarthy Field and Oakland Park in Toledo, Ohio on August 30-September 2.
---
Champion – Gatliff Auto Sales, Newport, Kentucky
Runner Up – McAdenville Reds, McAdenville, North Carolina
---
Gatliffs started out winning five straight games including the winners bracket final. Vern Roberts won the first three games, Tom Imfeld won the fourth, then Roberts came back to win the winners bracket final to make Gatliffs the only undefeated team.
McAdenville pounded out 20 hits, including 5 HR (Bill Campo, Mason Leeper, Harold Helton, Red Jenkins and Carroll Beale) while defeating Lotus Club of Pittsburgh 18-12 in the losers bracket final. Then they came back and defeated ace hurler Vern Roberts and unbeaten Gatliffs 13-10 in the first championship game.
Gatliff's came back with Tom Imfeld pitching again and won the final game 8-4. Myron Reinhardt started off the hitting barrage with a 2-run homer in the first inning. Three straight home runs followed off the bats of Dan Heilman, Ralph Bo Stutebeck and Alex Burhart.
Reinhardt later added another home run. He finished the last game 2-3 with 2 HR, 3 RBI and 2 Runs scored.
Red Jenkins pitched all 7 games for McAdenville.
Vern Roberts finished the tournament with a 4-1 pitching record. In a word of note, Frank Matoh of Sheffield Bronze set a tournament record by hitting 4 consecutive Home Runs in one game during Sheffield's 19-7 win over the Staten Island Stoppers of NYC.
---
MVP – No MVP Awarded (Many sources say Myron Reinhardt would have won easily leading Gatliffs to the title, batting .680  and winning the HR award)
HR Leader – Myron Reinhardt, Gatliff's Auto Sales – 8
Batting Leader – Phil Perlongo, 5&10 Tap – .696
---
FIRST TEAM ALL-AMERICANS
P – Tom Imfeld, Gatliff Auto Sales (2-0)
P – Ray Red Jenkins, McAdenville Reds (5-2)
P – Phil Perlongo, 5&10 Tap (4-2 Pitching and 16-23, .696)
C – Joe Wooten, McAdenville Reds (12-24, .500, 3 HR)
C – Jim McKenzie, Lotus Club
IF – Don Whitford, Gatliff Auto Sales
IF – JD McDonald, McAdenville Reds
IF – John Henry, Gatliff Auto Sales
IF – John Beam, McAdenville Reds (2 HR)
IF – Harold Helton, McAdenville Reds (12-22, .545, HR)
OF – Joe Lacher, Lotus Club
OF – Myron Reinhardt, Gatliff's (17-25, .680, 8 HR)
OF – Jack Moser, 5&10 Tap
OF – Bob Fisher, Lotus Club
MGR – Al Brausch, Gatliff Auto Sales
---
OTHERS
Vern Roberts, Gatliff Auto Sales (4-1) pitching
---
FINAL STANDINGS
1. Gatliff Auto Sales, Newport, KY (6-1)
2. McAdenville Reds, McAdenville, NC (6-2)
3. Lotus Club, Pittsburgh, PA (4-2)
4. 5&10 Tap, Milwaukee, WI (4-2)
5t. Westwood Merchants, Dayton, OH (4-2)
5t. Sheffield Bronze, Cleveland, OH (4-2)
7t. Viking Insurance Agency Athletic Club, Wantagh, NY (3-2)
7t. Spot Tavern, Creighton, PA (3-2)
9t. Knoxville Police, Knoxville, TN (3-2)
9t. Cincy Mat Stoppers, Staten Island, NY (3-2)
9t. Rip's All Stars, Detroit, MI (2-2)
9t. Macomber Inc., Canton, OH (2-2)
13t. Neighborhood Inn, Toledo, OH (2-2)
13t. Homer's Boys, Louisville, KY (2-2)
13t. Ethiers Café, Worcester, MA (2-2)
13t. Hill City Club, Rome, GA (2-2)
17t. Armands, Sandusky, OH (1-2)
17t. Legion Post #435, Richfield, MN (1-2)
17t. Latonia A.C., Covington, KY (1-2)
17t. Dutt's Drug, Akron, OH (1-2)
17t. Snafu Club, Sheboygan, WI (1-2)
17t. Country Charm, Toledo, OH (0-2)
17t. Ben's Bar, Sidney, OH (0-2)
17t. T.T. Bearings,  Rochester, NY (0-2)
25t. Elks Club #295, Warren, OH (0-2)
25t. 2424 Club, Minneapolis, MN (0-2)
25t. Marion Grill, Columbus, OH (0-2)
25t. Rosmarin Reality, Cincinnati, OH (0-2)
25t. Duraflex, Buena Vista, VA (0-2)