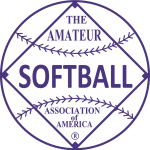 1956 held at League Park in Cleveland, Ohio on September 3-5.
---
Champion – Gatliff Auto Sales, Newport, Kentucky (34-3)
Runner Up – Lang's Pet Shop, Covington, Kentucky (30-3)
---
Gatliff Auto beat West End Merchants from Jefferson County (Louisville Area) Kentucky 5-0 in the winners bracket final behind the shutout pitching of Vern Roberts. Defending champ Lang's Pet Shop lost it's first game to Pittsburgh's Dormont Boosters 5-4 and stormed through the losers bracket winning 6 straight games then eliminating the West End Merchants of Jefferson County-Louisville, KY 9-6 for their seventh straight win and advanced to the finals.
Malio Valvano pitched all the games for Langs. They had to defeat Gatliff's twice to win the title. Gatliff's pitcher Vern Roberts made sure that didn't happen as Gatliff's dethroned Lang's 2-1 in the Championship game. Vern Roberts helped his cause getting a hit and scoring a run.
Lou Smith had a big sac fly for Gatliff's to score Gene Dittoe and Bill Bieger chipped in with 2 hits.
For Lang's, Earl Berryman and Bo Stuntbeck both had doubles, with Berryman scoring the only run for Langs. Vern Roberts had 2 shutouts and surrendered only 17 runs in 5 games. Gatliff finished the season with only 3 defeats the entire year, all to Lang's.
---
MVP – Vern Roberts, Gatliff Auto Sales
HR Leader – Lenny Roth, Helf Builders – 5
Batting Leader – Earl Berryman, Lang's Pet Shop – .615
Manager – Al Brausch, Gatliff Auto Sales
---
FIRST TEAM ALL-AMERICANS
P – Vern Roberts, Gatliff Auto Sales (5-0 pitching, including 2 shutouts; gave up only 1 run in the two final games)
C – Bill Bieger, Gatliff Auto Sales
1B – Dick Hufnagel, Dormont Boosters
2B – Don Rardin, Gatliff Auto Sales
3B – Ray "Whitey" Brown, Lang's Pet Shop (12-30, .400, 3 HR, 13 RBI)
SS – JD McDonald, McAdenville Reds
SF – Donnie Key, West End Merchants
OF – Hal Wiggins, Lang's Pet Shop (17-30, .567)
OF – Earl Berryman, Lang's Pet Shop (16-25, .615)
OF – Lenny Roth, Helf Builders (5 HR)
OF – Myron Reinhardt, Gatliff Auto Sales
---
OTHERS
Malio Valvano (7-2) pitching
---
FINAL STANDINGS
1. Gatliff Auto Sales, Newport, KY (5-0)
2. Lang's Pet Shop, Covington, KY (7-2)
3. West End Merchants, Jefferson County, KY (4-2)
4. Dormont Boosters, Pittsburgh, PA (4-2)
5t. Helf Builders, Cleveland, OH (4-2)
5t. Westwood Merchants, Dayton, OH (3-2)
7t. McAdenville Reds, McAdenville, NC (3-2)
7t. Sheffield Bronze, Cleveland, OH (2-2)
9t. Green Seven, Milwaukee, WI (3-2)
9t. Jefferson Grill, Rochester, NY (2-2)
9t. Spot Tavern, Creighton, PA (2-2)
9t. Blue Grass Café, Louisville, KY (1-2)
13t. Dave's Bar, Minneapolis, MN (2-2)
13t. Rips All Stars, Detroit, MI (2-2)
13t. Roth Drugs, Canton, OH (1-2)
13t. West Park Methodist, Columbus, OH (1-2)
17t. Maltese Drug, Wantagh, NY (1-2)
17t. Cincy Matthews Stoppers, Staten Island, NY (1-2)
17t. Dutt's Drug, Akron, OH (1-2)
17t. Elk's Club, Warren, OH (1-2)
17t. Fire and Police, Rossville, GA (0-2)
17t. Eureka Bar, Cincinnati, OH (0-2)
17t. Heilman Old Style Lagers, Sheboygan, WI (0-2)
17t. Exchange Club, Sandusky, OH (0-2)
25t. Green Oak Inn, Toledo, OH (0-2)
25t. General Shoe Corporation, Frankfort, KY (0-2)
---