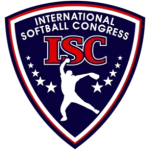 1950 held at Greeley, Colorado on September 2-11.
---
Champion – Hoak Packers, Fresno, California
Runner Up – Kings, Hanford, California
---
This was the final NSC tournament held in Greeley (CO). The ISL was created in December, 1950 by Carrol Forbes and in 1951 the inaugural ISL tournament was held in
Greeley (CO).
At this 1950 NSC tournament, Hoak Packers were unbeaten, winning 5 games, allowing 7 runs while scoring 16 runs. Their first 3 wins were by one run and the lone shutout they recorded was in the 3-0 final over Hanford Kings.
The first woman manager of an NSC world tournament team made her debut in this tournament. Mrs. Ruth Mohr took control of the Marchese team at mid-season and
guided her club to the metro, district, and state championships to qualify for the world tournament. The team lost its final game on Red Denham's (Crane) no-hitter.
---
Cleo Goyette Memorial MVP Award – Red Denham, Gulf Oilers
Leroy Zimmerman Memorial Pitching Award – LeRoy Zimmerman, Hoak Packers
Leading Hitter – Bill Heard, Kings – .429
Most RBI – N/A
---
1950 ISC FIRST TEAM ALL WORLD
P – Bill Buckley, Kings, Hanford
P – Les Haney, Hoak Packers
C – Whitey Becknell, Kings
C – Hal Britton, Hoak Packers
IF – Leonard Francis, Hoak Packers
IF – Herman Hoff, Wells Motors
IF – Rusty Stewart, Gulf Oilers
IF – Bing Bingston, Hoak Packers
OF – Ray Maegher, Hoak Packers
OF – Bill Heard, Kings, Hanford
OF – Vance Adams, Deal Motors
UTIL – Jim Livingston, Grever Truck Lines
UTIL – Ray Curtiss, Wells Motors
---
FINAL STANDINGS
1. Hoak Packers, Fresno, CA
2. Kings, Hanford, CA
3. Grever Truck Lines, Tulsa, OK
4. Wells Motors, Greeley, CO
5t. Gulf Oilers, Crane, TX
5t. Deal Motors, El Paso, TX
7t. Eales, Bryan, OH
7t. Brandies, Rock Island, IL
9t. Fisher-Hess Pontiac, Ogden, UT
9t. Snow Jewelers, Clinton, OK
9t. Double Seven, Phoenix, AZ
9t. Hast Lumber, Denver, CO
13t. Juds, Johnstown, CO
13t. Marchese Bros., Milwaukee, WI
13t. Eagles, Cheyenne, WY
13t. Stoutamire Garage, Gainesville, FL
17t. Horton Mfg., Fort Wayne, IN
17t. Motors, Cochituate, MA