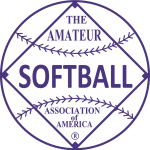 1950 held in San Antonio, Texas on September 18-22.
---
Champion – Orange Lionettes, Orange, California (67-9)
Runner Up – Arizona Ramblers, Phoenix, Arizona
---
In the championship game, Margie Law went 5 innings for Ramblers, then Amy Peralta finished the game for the Ramblers, hurling the last 9 innings. Ragan had a big RBI single. She hurled 9 no-hitters during the season.
Jean Hull, Orange Lionettes (8-21, .381, 4 Runs). Sears was 4-7 in the championship game.
Virginia Dobson, Arizona (11-29, .378, 5 Runs)
Amy Peralta May, Arizona Ramblers (3-2, 20 K, beat Bertha Ragan 1-0 in 11 inning to force final)
Margie Law and Billie Harris (3-7) both had good games for the Ramblers. Pitcher Margie Law won the game in the 17th inning when her double drove in the games only run. The Ramblers had to play 44 innings of consecutive softball in the end of the tournament.
Diesellettes Lucille Eslinger was 2-0 for the Dieselettes. One of her wins was a combined no hitter with Marie Wadlow as Eslinger got the win.
---
MVP – Bertha Ragan-Tickey, Orange Lionettes – 5-1, 76 Ks, 54 IP, 2 no hitters, perfect game; 4 shutouts, 38 consecutive scoreless innings, only gave up 2 runs, and won 3-1 in a 15 inning final.
Batting Leader – Margaret Dobson, Erv Lind Florist (8-13, 6 runs scored) – .615
HR Leader – N/A
---
1950 FIRST TEAM ALL AMERICANS
P – Bertha Ragan-Tickey, Orange Lionettes
P – Marie Wadlow, Caterpillar Dieselettes (2-2, All America Team), retired after tournament and received a special award for the person that has contributed the most to women's softball.
P – Margie Law, Phoenix Ramblers (2-0) beat Marie Wadlow, Peoria (2-2, 26 K); 1-0 in 17 innings, each had 10 K.
C – Dot Wilkinson, Phoenix Ramblers
1B – Ruth Sears, Orange Lionettes (11-28, .393, 6 Runs)
2B – Shirley Coney, Caterpillar Dieselettes
3B – Margaret Dobson, Erv Lind Florists
SS – Beverly Connors, Orange Lionettes
OF – Carolyn Thome, Caterpillar Dieselettes (9-23, .391, 5 Runs)
OF – Thelma Paris, Erv Lind Florists
OF – Pat Collins, Orange Lionettes
---
FINAL STANDINGS
1. Orange Lionettes, Orange, CA (5-1) (South Pacific Coast)
2. Arizona Ramblers, Phoenix, AZ (5-2) (Defending Champ)
3. Caterpillar Dieselettes, Peoria, IL (4-2) (West Central)
4. Holling Debs, Buffalo, NY (2-2) (Mid-Atlantic)
5t. Hall-Maytag Girls, St. Petersburg, FL (3-2) (Southern)
5t. Capital Chevrolet, Denver, CO (3-2) (Rocky Mountain)
7t. Erv Lind Florists, Portland, OR (2-2) (Northwestern)
7t. Carano Construction, Springfield, OH (2-2) (East Central)
9t. Building Trades Council, Baton Rouge, LA (1-2) (Southwestern)
9t. Wooten Motors Motorettes, Fort Worth, TX (1-2) (Texas)
9t. Raybestos Brackettes, Stratford, CT (1-2) (North Atlantic)
9t. Thompson Motors, San Antonio, TX (0-2) (Host)
13t. Kansas City Dons, Kansas City, MO (0-2) (Western)
13t. Garvin's Grill, Washington, DC (0-2) (Central Atlantic)
13t. Twinetees, Fargo, ND (0-2) (Northern)
NOTES: North Pacific Coast Champ – Betsy Ross Rockets, Fresno, CA (decided not to attend). Canada Champ – Clayton's Department Store, Toronto, ON (could not attend).