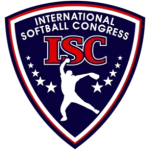 1948 held at Oklahoma City, Oklahoma.
---
Champion – Merchants, Taft, California
Runner Up – Clark Smith Autos, Phoenix, Arizona
---
Kenny Law struck out 27 batters in a 15-inning game. Wes Priest (Merchants) struck out 19 in a 7-inning game. Les Haney (Merchants) threw a no-hitter against Acme Glass.
Kenny Law and Don Westfall combined to do the same vs Cochituate Motors. In that game, Law went 4 innings & had one baserunner on his own error. Westfall also had a baserunner through an error in the 6th inning. But in the 7th with 2 outs, Westfall intentionally walked the next batter so that 15 year-old Rollie Welchel (relief pitcher) could get a chance to bat. He grounded out.
Wheeler Realty who finished with a 2-2 record had 1-hit losses to both Kenny Law and Wes Priest. Clyde Woods (Anderson Sporting Goods) also threw a 1-hitter against Greeley but lost, 1-0!
Goody Rosen of Levy Auto Parts (ex-Brooklyn Dodger) had 4 hits in one game and two triples in the same game.
---
Cleo Goyette Memorial MVP Award – Kenny Law, Clark Smith Autos
Leroy Zimmerman Memorial Pitching Award – Les Haney, Merchants
Leading Hitter – Delmar Wade, Anderson Sporting
Most RBI – N/A
---
1948 ALL WORLD TEAM
IF – Johnny Burkhart, Merchants
IF – Bob Adams, Clark Smith Autos
IF – Delmar Wade, Anderson Sporting Goods
IF – Norb Burkhardt, Acme Glass
OF – Roy Butler, Bluebonnet Laundry
OF – Lefty Bevington, Clark Smith Autos
OF – Goody Rosen, Levy Auto Parts
OF – Herman Hoff, Wheeler Realty
UTIL – Vance Adams, Clark Smith Autos
UTIL – Charles Morris, Merchants
C – Willis James, Bluebonnet Laundry
P – Les Haney, Merchants (2-0)
P – Kenny Law, Clark Smith Autos (5-2, 86K)
P – Pat Peeples, Merchants (2-0)
---
FINAL STANDINGS
1. Merchants, Taft, CA
2. Clark Smith Autos, Phoenix, AZ
3. Bluebonnet Laundry, Lubbock, TX
4. Wheeler Realty, Greeley, CO
5t. Levy Auto Parts, Toronto, ON
5t. Anderson Sporting Goods, Oklahoma City, OK
7t. Cochituate Motors, Natick, MA
7t. Acme Glass, Cincinnati, OH
9t. Drugstore Cowboys, Pawhuska, OK
9t. All-Stars, Elmira, NY
9t. Grever Truck Lines, Tulsa, OK
9t. Scott's Market, Oklahoma City, OK