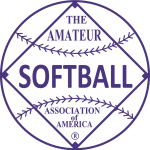 1943 held at Detroit, Michigan.
---
Champion – Hammer Airfield Raiders, Fresno, California (25-3)
Runner Up – Briggs Beautyware, Detroit, Michigan
---
(Unofficial MVP by Newspaper accounts) – Kermit Lynch, Raiders (3-0; 3 shutouts, including 1-0 win in finals, also drove in Dalton Moore with a triple to account for the only run of the game)
Al Linde, Raiders (1-1 pitching with a shutout, and played OF when he wasn't hurling)
Ed Figelski, Briggs Beautyware (Pitched a 14 inning no hitter, winning 1-0 and having 27 Ks in the opening game, then came back in the first championship game to shut out Hammer Field 4-0 to force the final showdown, Big Ed had 10 Strikeouts to finish with 37 total in the 2 games he pitched. Ed Pearl was the pitcher of record in the final championship game for the Briggs Bombers and he only gave up 1 hit, but just happened to be Kermit Lynch's RBI triple. Pearl was 2-2, Figelski was 2-0 and Ted Bankey was 1-0 for the Bombers.
Russ Johnston, Canadian Dental Corp. was 3-2 with no hitter.
The Zollner Pistons never made it out of the Regionals having been beaten by Midland Dow AC and then eliminated by the Peoria Caterpillars.
---
MVP – Kermit Lynch, Hammer Airfield Raiders
Batting Leader – Ed "Tyranski" Tyson, Briggs Beautyware (9-19) – .473
HR Leader – N/A
---
FINAL STANDINGS
1. Hammer Airfield Raiders, Fresno, CA (5-1) (Military Service)*
2. Briggs Bombers, Detroit, MI (5-2) (Host)
3. Coca-Cola, Cincinnati, OH (3-2) (East Central)
4. Martin Bombers, Omaha, NE (4-2) (Western)*
5t. Canadian Army Dental Corp, Toronto, ON (3-2) (Canada)
5t. Public Service, Denver, CO (2-2) (Rocky Mountain)
7t. Dow Chemical, Midland, MI (2-2) (West Central)
7t. Kodak Park, Rochester, NY (2-2) (Mid-Atlantic)
9t. Camp Wallace, Galveston, TX (1-2) (Southwestern)
9t. Garvin's Grill, Washington DC (0-2) (Central Atlantic)
9t. Teamsters, Tacoma, WA (1-2) (Northwestern)
9t. Phalanx Fraternity, Phoenix, AZ (1-2) (Pacific Coast)
13t. United Wire, Providence, RI (0-2) (North Atlantic)
13t. Burtner Farms, Greensboro, NC (0-2) (South Atlantic)
* won a game by forfeit
---
NOTES
8th Naval District, New Orleans, LA (Southern) did not show up. Deep Rock Oilers, Tulsa, OK – Defending Champs – Disbanded. Phalanx Fraternity, Phoenix, AZ went in place of O.S. Stapley, Phoenix, AZ, who could not attend. Northern Region did not send a team or did not hold a tournament. Puerto Rico (Atlantic Ocean) and Mexico did not attend due to World War II transportation restrictions.