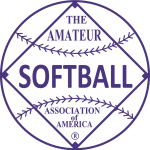 1942 held at Detroit, Michigan.
---
Champion – Deep Rock Oilers, Tulsa, Oklahoma
Runner Up – Briggs Bombers, Detroit, Michigan
---
The tournament had a different twist to it as it was the first national to use the double elimination format, but it differed then the norm.
In prior national tournaments, state associations were sending their champions on to nationals. This was the first year that teams would play in regional tournaments with the regional tournament champion advancing to the national championship. The tournament totaled 16 teams, 14 regional teams, 1 defending champion, and 1 host team.
Sig Lawson hurled 3 shutouts, and a 3-2 no hitter. He beat Phoenix 1-0 on a 15 inning shutout, then threw the 3-2 no hit game against Bendix in the winners bracket final. he later came back to shutout Zollner 2-0 in semis. The powerful Zollner squad (62-11 on the season) could only manage 4 hits off Lawson. He then threw a 2-0, 1 hit shutout against Briggs with 12 Ks in the championship game. The leadoff man for Briggs beat out a bunt, Lawson retired the next 21 men in a row.
Al Linde, Deep Rock (Played OF in the 4 games Lawson pitched and went 2-1 himself, hurling shutouts in both victories)
Leo Luken, Zollner Pistons (3-0, 23 IP, gave up only 1 run and 4 hits and struck out 33 batters). Stan Lipa was 1-2 for the Zollner squad.
Walter Blumke of Briggs was 3-1 hurling Briggs from an early defeat all the way to the finals. Ed Figelski (2-1) pitched the other Briggs victory.
Ed "Tyranski" Tyson of Briggs (9-21, .328)
Stan Corgan pitched every game for Bendix, but could not duplicate his magic of the 1941 tournament and finished 3-2.
The last four teams were entered into a semifinal format. Deep Rock was undefeated, while Bendix, Zollner and Briggs all had 1 loss. Leo Luken pitched a 2-0 no hitter with 11 K to eliminate defending champ, Bendix Brakes in the one semifinals. Briggs, behind the pitching of Walter Blumke gave Deep Rock their first loss, pinning a rare defeat on pitcher Al Linde 3-2. Bendix now had 2 losses and was eliminated and finished 4th. The other three teams still had only 1 loss, so with Stan Lipa taking the mound for Zollner, they were eliminated by pitcher Sig Lawson's shutout pitching in a 2-0 loss to Deep Rock. With Briggs and Deep Rock both having one loss, the Championship game was another Sig Lawson masterpiece, as he hurled the Deep Rock Oilers to the title with a 2-0, 1-hit shutout and struck out 12 Briggs Batters.
The Pistons were led by the bats of Doehrman, Jim Ramage (5-17, .294, 5 RBI), Porky Slater (5-18, .278) and Zollner Pistons Basketball star, Curley Armstrong (5-19, .263). Armstrong, who in 1943, would go onto win the MVP of the World Basketball Tournament, held in Chicago. Oskkosh edged out Zollner for the title, but Armstrong was good enough to be named MVP.
---
MVP – Curley Armstrong, Zollner Pistons
Batting Leader – Lloyd "Lefty" Doehrman, Zollner (5-11, HR, 2 3B, 2 BB, 2 Sacs, 3 RBI) – .455
HR Leader – Bill Robeson, Deep Rock Oilers – 4
---
FINAL STANDINGS
1. Deep Rock Oilers, Tulsa, OK (6-1) (Southwestern)
2. Briggs Bombers, Detroit, MI (5-2) (Host)
3. Zollner Pistons, Fort Wayne, IN (4-2) (East Central)
4. Bendix Brakes, South Bend, IN (3-2) (Defending Champ)
5t. Chicago Match Corp., Chicago, IL (3-2) (West Central)
5t. Goetz Bewery, St. Joseph, MO (2-2) (Western)
7t. Phalanx Fraternity, Phoenix, AZ (2-2) (Pacific Coast)
7t. Kodak Park, Rochester, NY (2-2) (Mid-Atlantic)
9t. Denver Public Service, Denver, CO (1-2) (Rocky Mountain)
9t. Romancos, Roanoke, NC (1-2) (South Atlantic)
9t. Homewood Dairy, Birmingham, AL (1-2) (Southern)
9t. Metz Brewing Company, Omaha, NE (1-2) (Northern)
13t. Cummins Construction, Baltimore, MD (0-2) (Central Atlantic)
13t. Merrill & Usher, Worcester, MA (0-2) (North Atlantic)
13t. Magna Firemen, Salt Lake City, UT (0-2) (Northwestern)
13t. HMCS York, Toronto, ON (0-2) (Canada)
---
NOTES
Puerto Rico (Atlantic Ocean) and Mexico did not attend due to World War II transportation restrictions.